One Hour Compo - Round 2 (OHC002)
During a trip hunting for dinosaur fossils, you accidentally stumble into a hole. All of a sudden you find yourself 100 million years in the past--a time when dinosaurs still roam the earth! You hear a sound overhead. A huge flying reptile is swooping toward you!
If you run away from the pterosaur into a cave, turn to page 19.
If you decide to take a ride on the flying reptile's back, turn to page 16.
---
I remember reading my favorite choose your own adventure book, "Return to Atlantis." No matter what path, you choose, you are always unable to reach Atlantis - and yet you see it every time you pass it, a large illustration in the center of the book. Most everyone has read one of these books - an "interactive" book that allows you to determine the destiny of the main character through making choices on actions taken throughout the story.

This weeks theme is "Choose Your Own Adventure." Please view the image for graphical inspirations.

You will have 1 hour to complete your song and 15 minutes to finish it up. At 5 PST/8 EST you may begin your mixing, please have your files uploaded by 6:15 PST/9:15 EST.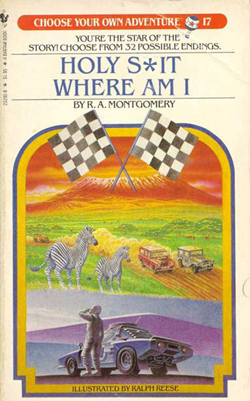 Start: on 2/7/08
Deadline: on 2/7/08
Voting: on 2/14/08